AFFORDABLE

PRICES

FRIENDLY

& TIDY

WORK

GUARANTEED

LATEST

TECHNOLOGY

IS YOUR WOODEN FLOORING IN WICKFORD WAY PAST ITS SELL-BY DATE?
Does it look as if it has been dragged through a coalmine? This is an excellent time to restore it to fitness and health by calling the Wickford floor sanding experts. Whatever the state and size of your hardwood or softwood flooring, we can renovate it in next to no time.
The premier wood floor sanding company in Wickford has been dedicated to restoring the area's wooden flooring for 20 years and is still going stronger than ever. We use the latest technologies to limit dust production and the best eco-friendly, non-allergenic stains and finishes on the market to put the final touch to your natural timber floors. We carry out all necessary repairs, sanding and finishing with minimal disruption and in the shortest amount of time, and we won't create any mess for you to clear up afterwards.
RECOGNISED BACKUP
We're proud that we've been the top wood floor sanding and finishing experts in Wickford SS12 for 20 years now, but even so we never stop striving to improve our range of floor sanding and renovation services. We're members of:
· The Guild of Master Craftsmen
· The National Wood Flooring Association
· The Federation of Small Businesses
​
​We are also proud to be a Junckers Approved Maintenance Contractor and to carry insurance cover of £5million. Check out a few customer Testimonials to see the consumer confidence we inspire in Wickford today.​
​​THE FULL GAMUT OF WOOD FLOOR SERVICES
Whether you have a vast state ballroom that requires complete renovation or a few square feet of surviving parquet flooring in your suburban hallway that you'd like to see spruced up, the Wickford floor sanding teams are the experts of choice. It starts with a free on-site assessment and before our teams leave you with your shining new flooring they'll hand over a free cleaning kit to help maintain it.
Have a browse through the online Gallery to see a few recent projects, and contact us to arrange for your free, no-obligation quote and to get things moving.​
LATEST NEWS, RECOMMENDED ARTICLES & TIPS
The DIY guide to removing your old carpet
So, you've had a sneak peek under the edge of your old carpets and there are wooden floorboards underneath. With floor sanding and polishing you know they're going to look incredible and you've booked a floor sanding company to do the job but there's just one problem - that old carpet.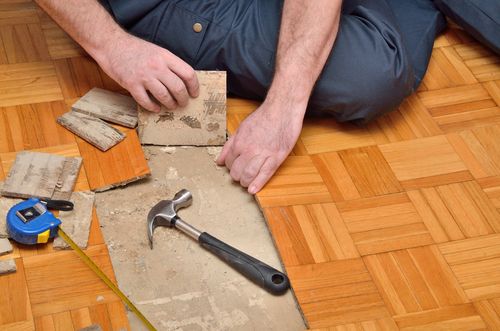 You'll need to rip it up, get rid of the tack strip and dispose of everything before you can fully reveal the beauty of those floorboards. Here's how to do it:

1. Get prepped

First you'll need to give the carpet a thorough hoovering to minimise the dust. Dust is the enemy when you're restoring wood floors, so the less there is in the atmosphere, the better. Now, check whether you can dispose of your old carpet at the local recycling centre.

2. Rip it up

There will be dust so make sure you're wearing an appropriate dust mask, especially if the carpet is old. Strong work gloves and eye protection are also recommended. You'll also need a pair of pliers, a sharp Stanley knife with extra blades and some gaffer tape.

Use your pliers to pull the carpet away from the tack strip round the edges of the room. Cut the carpet into strips that you can roll up easily, taking care not to cut into the floorboards, then roll up the strips and secure using gaffer tape. Deal with the underlay in the same fashion, taking care not to damage the floor, and save a strip to wrap up the tack strip for safe disposal.

3. Take up the tack strip

You'll need gloves and eye protection again, and work with care so you don't unduly scratch or scrape the floor. Start to ease up the end of the tack strip with a crowbar or pliers and look for the long nails that secure it to the floor so you can carefully ease them up. Break up the strip into smaller pieces and pull up the staples with pliers or a flat head screwdriver.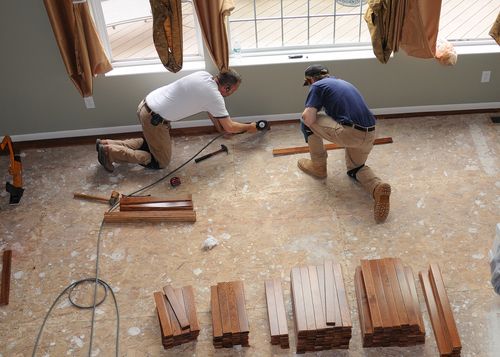 Sweep or vacuum to get rid of all debris so that it doesn't impact on the floor sanding equipment and bundle up the pieces in the underlay you saved for the job. Now, you're ready to prep your floorboards for your floor sanding specialists to bring them back to life.

Once you've uncovered gorgeous wooden floors, call us at the Floor Sanding Company to get them looking outstanding.
For Exquisite Wooden Floors Call 01268 350 319 Now
BEFORE & AFTER